About Gerard Kingma
As a landscape photographer, I try to define what sets a particular landscape apart from others. I try to analyse what I see, and then home in on essential elements, snapping, chiselling and cutting away all superfluous elements of a composition until the bones of the landscape are laid bare. In my own country, it's fields, meadows and dikes, and the sky above. Folks that live here don't much care for trees, they get in the way of their view of the horizon.
To capture the essence of a particular landscape and its people, I use various tools and techniques. I prefer to register each and every drop of water and blade of grass, so use a large format camera or a medium format system and make large prints.
I use medium format roll film in my Hasselblad 501CM, and large format 4x5"-transparency colour sheet film in the Toyo 45CF or nowadays my new Chamonix 045N-2 view camera. I develop the films with a Jobo CPE2-processing machine, in Tetenal 3-bath E6-chemistry. I scan the films with an Epson V750 (large format) or a Nikon LS9000 (medium format) scanner. The prints are made on a Canon IPF6100 24"-printer, which uses a photo paper path of 24" by 50 feet (60 cm x 15 m). The whole process requires attention to detail, patience and a love of craftsmanship. Trying to rush things is a recipe for disaster. That's what makes traditional analogue photography so rewarding. When it works, there's nothing quite like it.
When I want to move about more freely, I use a Canon M2, a small and lightweight digital mirrorless camera system which delivers outstanding image quality.
Contact
Please don't hesitate to contact me:

Gerard Kingma Photography

Havenstraat 5

9797 PL Thesinge

The Netherlands

Tel.: + 31 50 3023813

E-mail: info@kingma.nu

Thank you for your visit!
Gerard Kingma
Exhibitions
2019 - Martiniplaza, Groningen - Group exhibition, Dualisme in het Groninger Landschap
2013 - Factory-Art Gallery, Mommsenstrasse, Berlin, You Can Tell Me!, Brickworks Rusthoven
2013 - Teachers Group Show, Photo Academy Groningen, Heroes
2012 - Museum Het Hoogeland, Warffum - Group exhibition LuciX, Beeldspoor, industrial heritage in the province of Groningen
2011 - Atelier Van Hulsen, Zeerijp - Solo exhibition
2011 - Hervormde kerk, Hornhuizen - Group exhibition LuciX, Urbanisation - Highlander cows as surrogate wildlife
2011 - Museum Stad Appingedam, Satellite Noorderlicht, Solo exhibition Mysterious landscapes of Groningen
2010 - Reformed Church, Hornhuizen - Group exhibition LuciX, Music
2009 - Restaurant De Buren, Ten Boer - Solo exhibition Brittanny
2009 - Veterinary Clinic Van Stad tot Wad, Groningen - Solo exhibition Landscapes of Groningen
2009 - Ruinen - Group show LuciX, Hidden Land
2009 - Wittewierum - Group show Art and Heritage Tour, Hidden Land
2009 - Reformed Church, Hornhuizen - Group exhibition, Hidden Land
2009 - Hornhuizen, Gallery Art & Job, Hidden Land and Disposable Camera Day
2009 - Teachers Group Show, Photo Academy Groningen, Hidden Land
2008 - Reformed Church, Wittewierum - Group exhibition Traces
2008 - Reformed Church, Hornhuizen - Group exhibition Beyond Walls - Czech Heritage
2008 - Restaurant De Buren, Ten Boer - Solo exhibition Hidden Land
2007 - Town Hall, Ten Boer, Group exhibition Landscapes of Groningen
2007 - Mill Germania, Thesinge, Solo exhibition Landscapes of Groningen
2007 - Reformed Church, Thesinge, Art and Heritage Tour - Solo exhibition Hidden Land
2007 - Blokzijl Estate, Ten Boer, Art and Heritage Tour - Group exhibition Winter Landscapes
2007 - Reformed Church, Hornhuizen - Noorderlicht Group exhibition Act of Faith - Hidden Land
2007 - Rubycon Furniture, Groningen - Solo exhibition Hidden Land
2005 - Blokzijl Estate, Ten Boer, Art and Heritage Tour - Solo exhibition Landscapes of Groningen and Brittany, France
2005 - Photo Gallery Lichtzone, Groningen - Solo exhibition Landscapes of Groningen and Brittany, France
2004 - Reformed Church, Thesinge, Art and Heritage Tour - Solo exhibition Landscapes of Groningen
2002 - Galerie Abbemaar, Thesinge - Group exhibition Portraits: This is my home
2001 - Museum Café 't Jopje, Thesinge - Solo exhibition Landscapes of Groningen

Awards
2016 - Photolucida Critical Mass Top 50 2016, for Brickworks Rusthoven
2013 - PDN World in Focus, Grand Prize Photo Essay, for Brickworks Rusthoven
2012 - International Loupe Awards - Bronze Award, for Fly me to the moon
2012 - International Loupe Awards - Bronze Award, for Damselfly
2012 - International Loupe Awards - Bronze Award, for Tell me, what am I doing here
2011 - International Loupe Awards - Bronze Award, for Reeds in the Wind
2011 - International Loupe Awards - Bronze Award, for Wilted Sunflowers
2011 - International Loupe Awards - Bronze Award, for Hermit's Hut, Portugal
2010 - The Epson International Pano Awards, Bronze Award, for Clouds Rolling In
2010 - Photography Masters Cup, International Color Awards, Nominee Still Life, for Wilted Sunflowers
2009 - Photography Masters Cup, International Color Awards, Nominee Still Life, for Persimmon
2008 - PX3 Prix de la Photographie Paris, Third Prize, for Living Statue, Prague
2007 - PX3 Prix de la Photographie Paris, Honorable Mention, for Hidden Land
2007 - PDN World in Focus, Merit Open Series, for Hidden Land
2006 - International Color Awards, Honorary Color Master - Nominee in Nature, for Jumping Lamb
2006 - International Photography Awards, Honorable Mention, for Bahamian Wedding
2006 - International Photography Awards, Honorable Mention, for Jumping Lamb
2005 - Travel Photographer of the Year, Single Image Category, for Jumping Lamb
2005 - Dutch outdoor magazine Grasduinen, Photographer of the Month (April)

Publications

Contains 26 commissioned images by G. Kingma. Cover image Foto de Vries

Check out www.fietsroutestenboer.nl (in Dutch)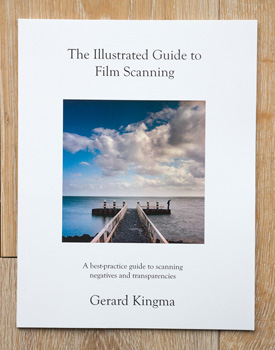 Gerard Kingma - The Illustrated Guide to Film Scanning - Amazon.com - http://amzn.com/1484137434

Het Verleden van de Toekomst - Astrid Mellema - Uitgeverij Profiel, Bedum 2011 - ISBN 9789052945019
Article Fancy Graphics Galore: Some observations on Gamutvision and PrintFIX Pro - Published on The Luminous Landscape by Michael Reichmann
Article Fancy Graphics Galore Part II: The Prettiest Print and Profile Pageant 2007 - Published on The Luminous Landscape by Michael Reichmann

Check out www.fietsroutestenboer.nl (in Dutch)